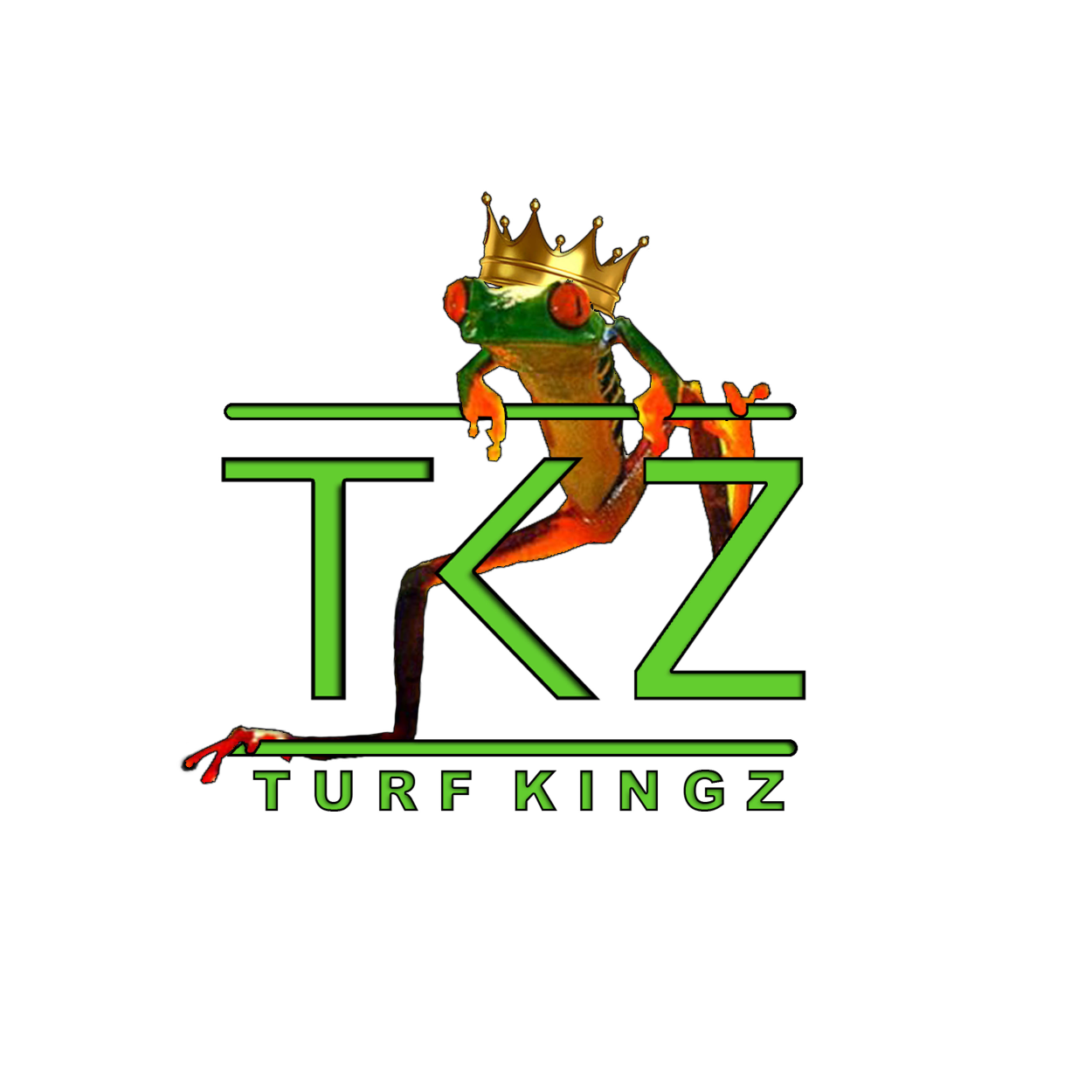 TURF KING​​​​​​​Z
America's Choice For Quality Turf
New Turf, Used Turf and New Turf Remnants
Contact Us Today For FREE QUOTE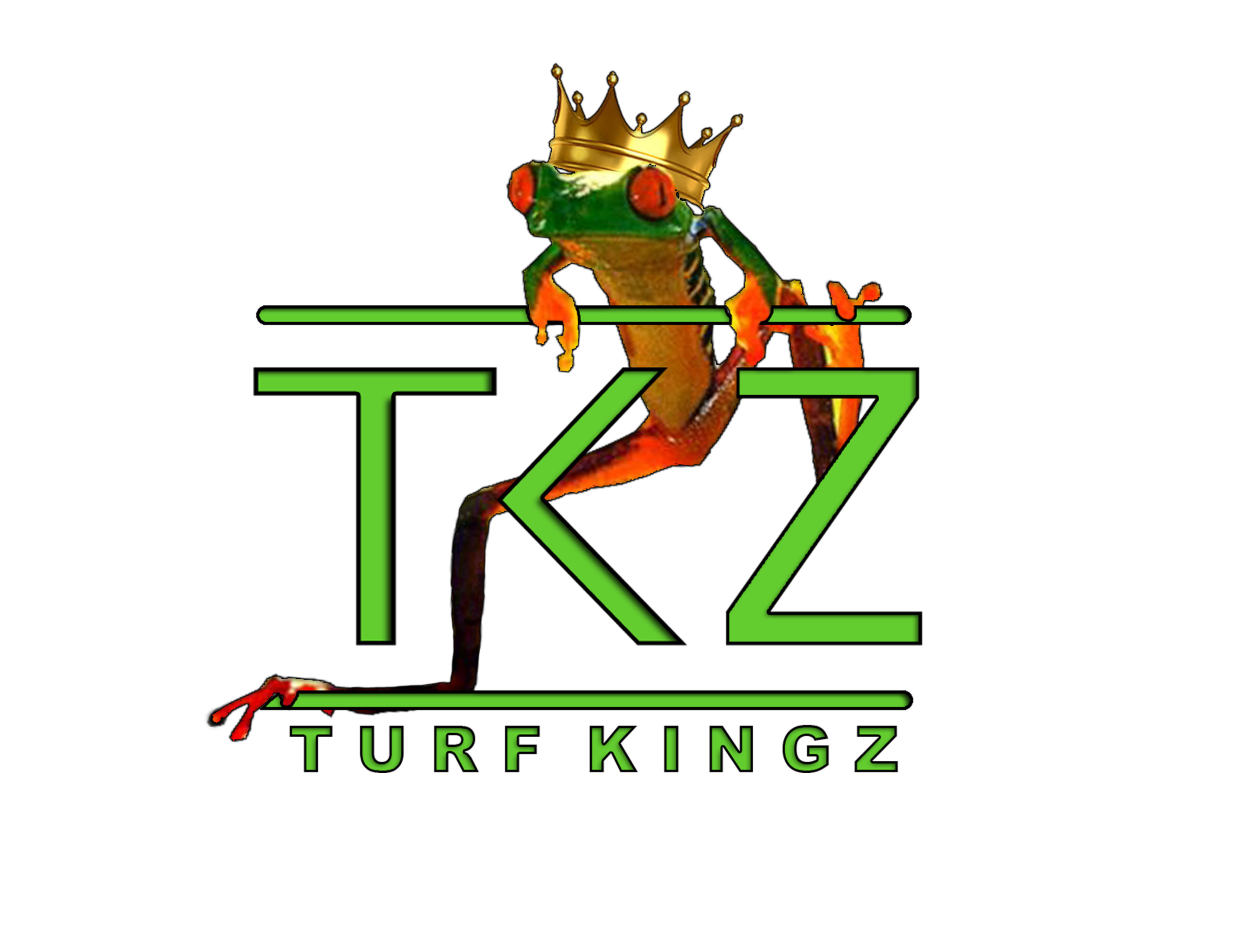 LOCATIONS ALL ACROSS THE UNITED STATES TO SERVE YOU BETTER
All of our turf, NEW, USED & NEW REMNANTS are USA MADE PREMIUM GRADE synthetic grass.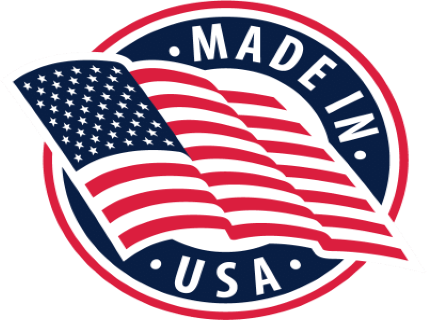 CLICK BELOW TO LEARN ABOUT OUR PREMIUM GRADE SYNTHETIC GRASS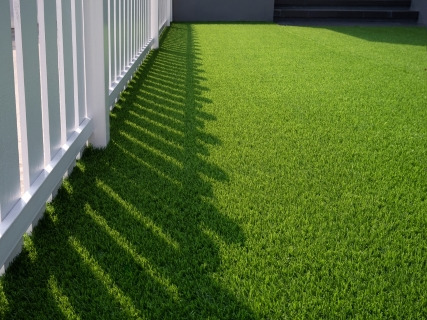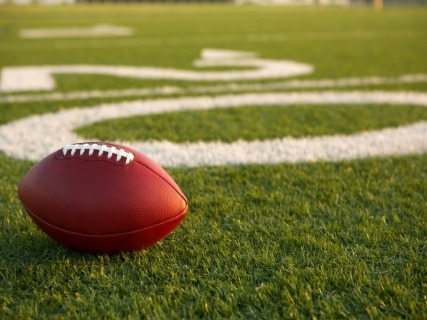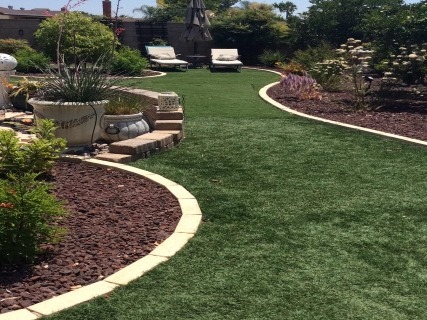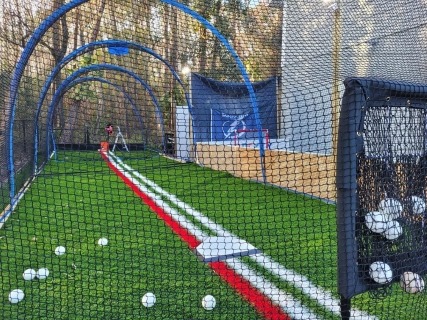 Have a Beautiful No Maintenance Landscaped Lawn
Durable Long Lasting Premium Turf For Sporting Venues
The Value of Our Premium Used Turf Can Give Your Lawn a Beautiful Look
Premium New Remnants Can Give You New Turf at Unbeatable Prices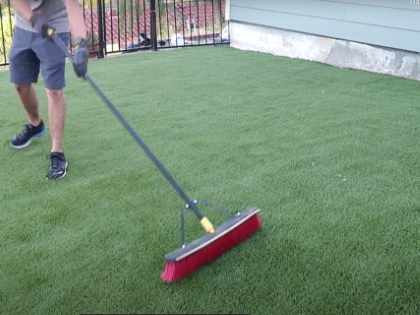 Want Some Installation Tips & Tricks?
BUSINESS OPPORTUNITY!
STORAGE SPACE NEEDED
CLICK FOR MORE INFORMATION
WHY ARTIFICIAL TURF?

For so many people, the idea of conserving water, having no maintenance lawns and protecting our environment (along with the many other benefits of artificial turf) is appealing but the cost can be exorbitant.

At Turf Kingz, whether it is NEW, USED or NEW REMNANTS, our mission is to provide USA Made, premium grade artificial turf at a fraction of the price, so that everyone can afford to enjoy all the benefits of artificial turf.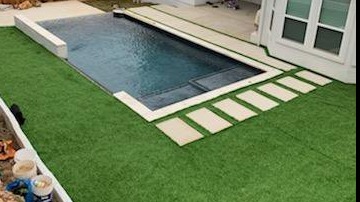 Not only will your artificial grass be green all year round, artificial turf has many additional benefits that can make it the perfect alternative to high maintenance natural grass.
Benefits such as:

Environmentally Safe
No Harmful Fertilizers or Pesticides
No Watering or Mowing
Kid Safe & Pet Friendly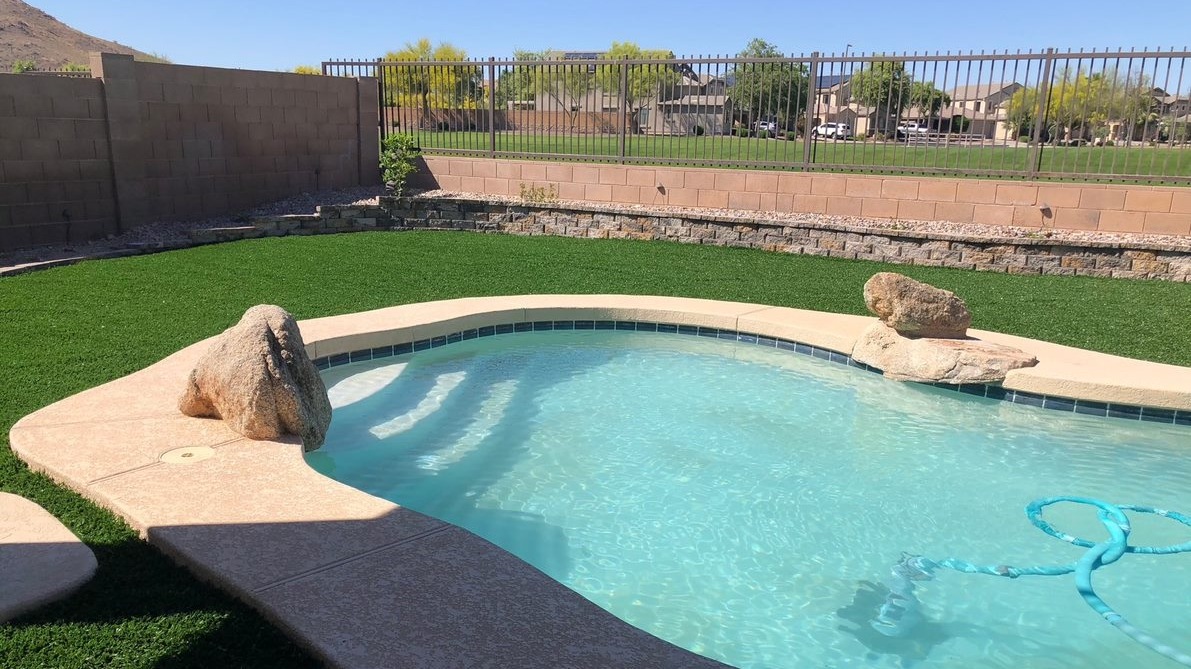 Give us a call for a
​free estimate at:
888-258-8873
Contact Us Today For FREE QUOTE


What Do Our Customers Say?
BUSINESS OPPORTUNITY!
STORAGE SPACE NEEDED
CLICK FOR MORE INFORMATION
Care & Maintenance
Maintaining an attention-grabbing lawn will eat up your precious evenings and weekends in a hurry.

We'll make sure you never have to worry about that again.

Turf from TurfKingz require none of the following: aerating, watering, fertilizing, weeding, or pest control. That's on top of not having to mow or edge, of course.

Now you can relax and enjoy your yard in your free time, rather than sweating behind a lawnmower in the summer sun.
Contact Us Today For FREE QUOTE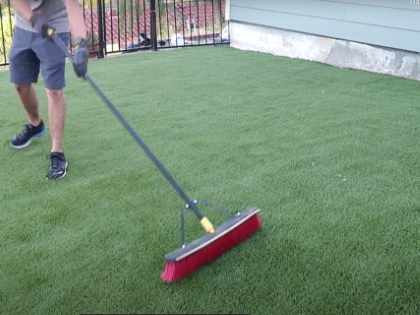 Want Some Installation Tips & Tricks?
BUSINESS OPPORTUNITY!
STORAGE SPACE NEEDED
CLICK FOR MORE INFORMATION
Read Some Persistent Artificial Turf Myths:
CLICK HERE FOR TIPS & TRICKS
"The grass and infill are toxic."
Our artificial turf products are manufactured using only non-toxic ingredients.

In many cases, these materials are recycled which is an added plus for the environment. The crumb rubber infill has been tested for decades. You can find a report on this research here: Synthetic Turf Council Research
"Pet waste causes bacteria and odors."
​
Treat artificial turf as you would if you had natural grass. Liquid will drain and you pick up the droppings. You can occassionaly hose to wash any remaining bacteria and urine away.
"It isn't safe for pets or kids"
​
Artificial turf will not develop holes for kids to slip and trip in. Also water will not make it slippery, so your kids can safely play outside in it when wet (This is great by the pool!)

Artificial turf doesn't attract fleas, mites and ticks. Since it is pest free there is no danger for your pets.

Finally no more grass allergies!
Contact Us Today For FREE QUOTE
Frequently Asked Questions
What is your turf made of?
The fibers are typically made of a blend of nylon, polypropylene and polyethylene which is made into synthetic fibers resembling natural grass. They are then connected to a backing material.

And we make it right here in the USA
You can use this on residential lawns?
YES! Homeowners will choose this product for many reasons including the no hassle upkeep and the water savings. And yes because their lawn will always look beautiful.
How well does it drain?
Better than real grass! Our lawns have specially designed drainage holes placed consistently throughout the turf to ensure water sheds quickly and efficiently and does not pool on the surface.
How long will it last?
For outdoor use the lifespan is usually a remarkable 10-15 years without maintencance and can last twice as long with minimal care.
Does Artificial Turf fade?
Turf Kingz artificial grass is manufactured with UV stabilizers built right into the material before it is formed into blades. Overtime there is typically less than 8% of color reduction over a 10-year period.
Does it mildew?
Artificial grass has a permeable backing to enhance drainage and blades that do not absorb water. Because of this, mold and mildew are very rarely issues with artificial grass.
What kind of maintenance does it require?
More a matter of keeping clean than maintaining…removal of organic materials from the surface, typically by using a leaf blower.
Plastic rakes may be required for removing heavier objects; however, a leaf blower is the ideal tool for general upkeep. A stiff, natural bristle broom can be used to "fluff" high traffic areas.
Can it stain?
We haven't come across anything that can stain it yet. Sticky spills should be hosed off to prevent them from attracting dirt and bugs. Even paint can be softened with paint remover and then rinsed off.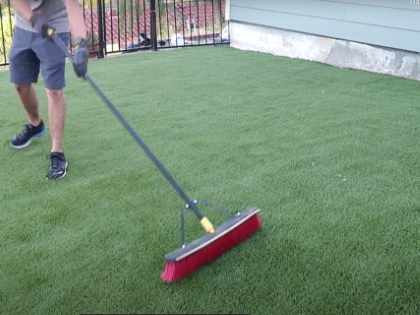 Want Some Installation Tips & Tricks?
BUSINESS OPPORTUNITY!
STORAGE SPACE NEEDED
CLICK FOR MORE INFORMATION